Browsing Category: "Mosque"
.
After wandering around Humayun's tomb we went to nearby  gate and ruins. The first site before the gate to Arab Sarai is under-construction so we are not able to get inside,  Arab Sarai or rest house for the Arabs it is built by Hamida Banu Begum around 1560-1561 CE for the Persian craftsmen who came to build it.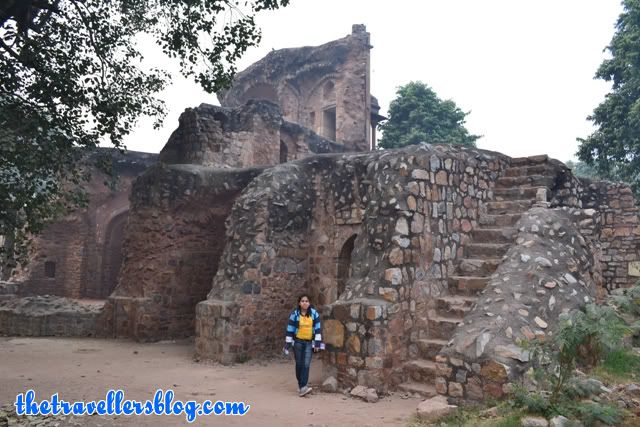 There's one security, guarding around  the ruins who keep following us my husband then he start talking to him. My husband told him he don't need guide, he says he is not a guide. I left them inside one the ruins and I look for place to sit, I am already tired and my camera is already low battery.
After looking around the other ruins we left and the guy ask for a tip from my husband, my husband told him we have no changed which is true. The guy replied he has a changed we just both nod our head, its unbelievable he sounds like a walking store with change. Lol!
Accross the ruins is Afsarwala Tomb (Officer's Tomb) and mosque,  belonging to a nobleman (Afsar Indianized word for Officer) in Akbar's court. One of the marble graves inside the tomb is dated 1566-67 CE. The mosque itself can be dated to the same period judging from its siting, standing as it does adjacent to the tomb, rather than away from it.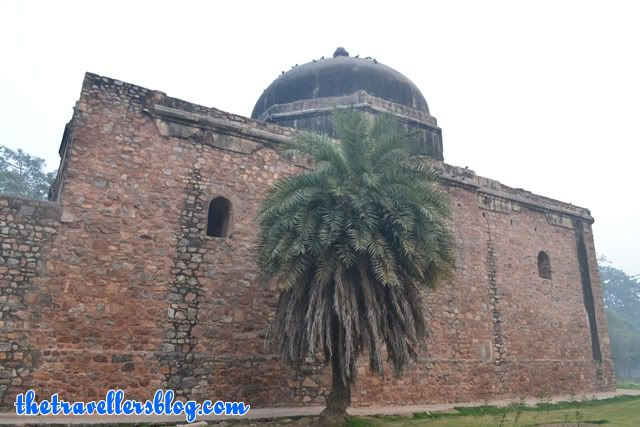 After lunch we continue our sight seeing our next destination is the  Jama Masjid, we just walked around with the help of a map. We have walked through intersections, market and small streets until such time I felt really very tired that I have asked my husband to hired a rickshaw. He told me we are almost there, a rickshaw driver approached us while we are looking in our map, trying to figure out if we have to turn left or go straight ahead. We have asked the rickshaw driver if how far is the Jama Masjid from where we are standing, the driver replied very far.  So we have asked him how much is the fare if he took us to the place, we agreed for 20 R.s.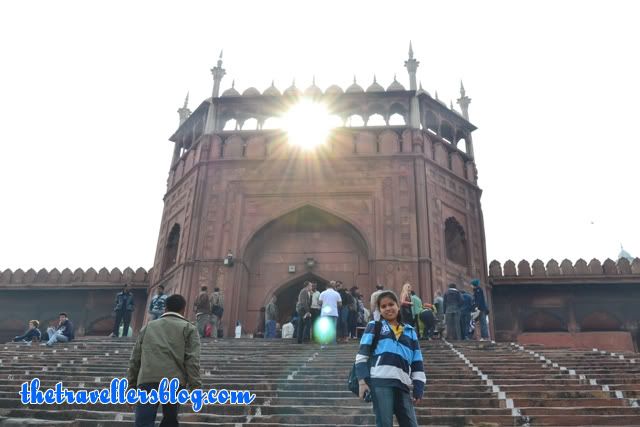 My husband got annoyed with me when we found out the Masjid is just one block away from where we are, in short it is not that far. When we pay the driver he has no change for 100 R.s and we don't have small bills as well, we told him to look for a change and the other rickshaw driver around also answered they have no change which is a little impossible and even the store nearby has also no change eh.,
My husband couldn't believed how everyone help each other just to get money from tourist because he cannot believed that everyone has no changed, so he decided to get the money from the driver and bought one small bottle of water in the store, at first the store owner is hesitated to accept our money until my husband says "Don't tell me you still have no change even if we are going to buy something?"  No choice he accepted it and give us a changed and we are able to pay the rickshaw driver who want to wait us and drop us again where we want to go but we say no.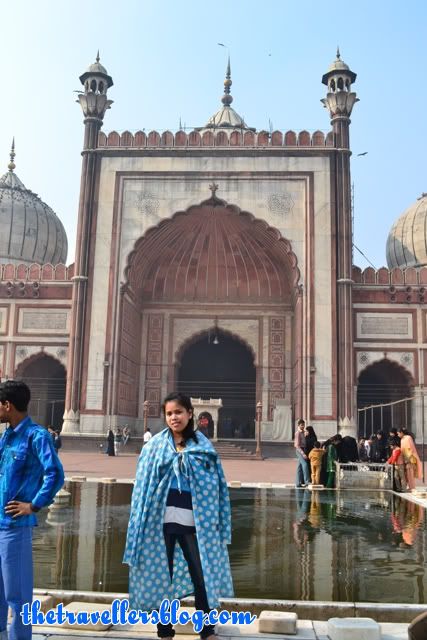 When we reached the gate you have to left your shoes outside before you are able to get inside, there's  man looking after the shoes. And when you went inside the main fate there's few local men  who will not let you in (women) without wearing the superwoman's cape, it is mandatory and it is not free. I am ask to pay 100 R.s  (lol), they thought tourist is made of money.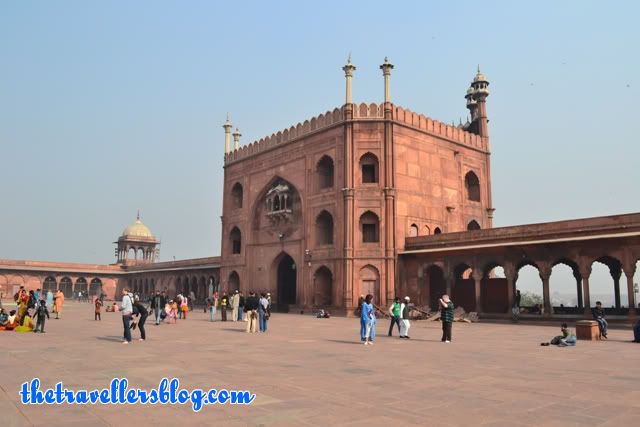 When we went out after looking and taking photos around the place I returned the cape and went to our shoes, we just wear our shoes and left. The local guy is asking for fee in looking after the shoes, one group of Japanese tourist with one local guide gave him set of coins and he wouldn't accept it but the guy didn't want to give more so he had no choice but to have it. About us we are too lucky that there are few tourist in our back trying to get their shoes that's why we are free to walk away. I am expecting someone will call us but it didn't happen., well I just concluded maybe the guy knew that I already pay the other man for the cape and I think it is too much, I saw one woman just handed 20 R.s but the guy asked 100 R.s from me.
Lesson learned next time bring a lot of small bills with you and don't asked how much is it, just pay because when you asked they will asked you as big as 100 R.S.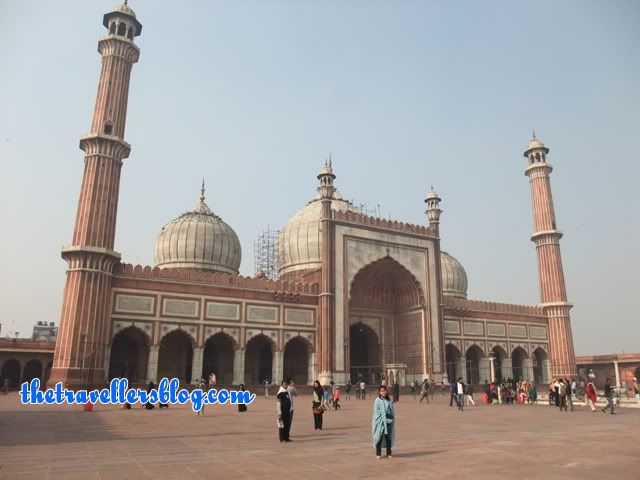 The Masjid-i Jahān-Numā commonly known as the Jama Masjid  of Delhi, is the principal mosque of Old Delhi in India. Commissioned by the Mughal Emperor Shah Jahan, builder of the Taj Mahal,in the year 1644 CE and completed in the year 1658 AD, it is the largest and best-known mosque in India. It lies at the origin of a very busy central street of Old Delhi, the Chawri Bazar Road.
The later name, Jama Masjid, is a reference to the weekly Friday noon congregation prayers of Muslims, Jummah, which are usually done at a mosque, the "congregational mosque" or "jāmi' masjid". The courtyard of the mosque can hold up to twenty-five thousand worshippers. The mosque also houses several relics in a closet in the north gate, including an antique copy of the Qur'an written on deer skin.
After less than one hour we arrived in Dhaka (Hazrat Shahjalal International Airport) but this time we already know where to get a legit taxi,for your own information there's two booth for taxi service in the arrival area, just on the corner of the exit doors. So we hired a taxi that will bring us to the same hotel which is Hotel Pacific – that we stayed when we first arrived in Bangladesh and we saved almost half of the payment, I will blog about the Hotel on my last post as we stayed there until our departure day.
We just ate dinner when we arrived in the hotel and then the next day we look for our driver Ali because he is going to help us find a car that will bring us to Sonargaon.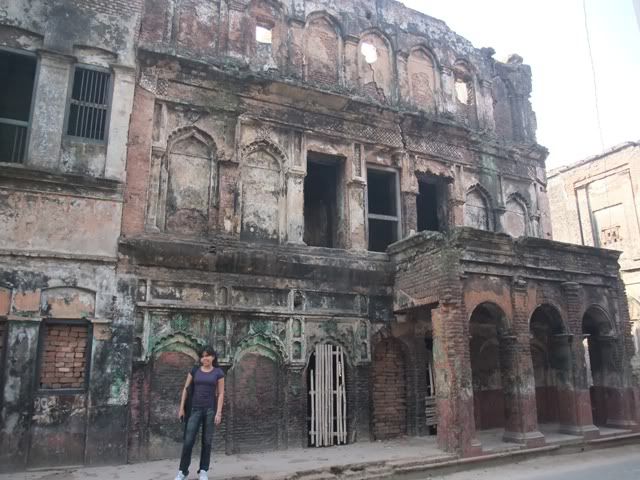 Sonargaon is 23km from Dhaka, it is is the ancient capital of Isa Khan's kingdom in Bengal. It is located near the current-day city of Narayanganj, Bangladesh.
According to history the great Muslim traveler Ibn Battuta visited Sonargaon in the 14th century. It is thought that when a squadron of the Chinese fleet of Zheng He, commanded by the eunuch Hong Bao, visited Bengal in 1432, they visited Sonargaon as well. The information about that expedition comes from the book of one of its participants, the translator Ma Huan.
Sonargaon is the eastern terminus of the Grand Trunk Road, which was built by Sher Shah Suri, extended approximately 2500 kilometres from Bangladesh across northern India to Peshawar in Pakistan's North-West Frontier Province.
Our first stop is  Goaldi Mosque, a single domed mosque which is built in 1519.  It is the most impressive in few extant monuments of the old capital city, it is a good example of the pre-Mughal architecture.
The mosque 50m beyond Goaldi is built on 1704 during the Mughal period.
After visiting Chilla Badar Shah our driver stop to another mosque and told us to look around, not to dismay him we went outside and walk to the mosque, we don't know what its name but there's a lot of locals visiting and praying, we just stay for a while then return immediately to our car.
Then our next stop and last stop for the day where at  Qadam Mubarak Mosque which located at Jamalkhan ward of Chittagong City.  As it is prayer time we waited outside until the locals done with their prayers,  they are friendly and hospitable, for the second time I have to hide my face on my sweater so I can enter the holy room where the Prophet's foot is stored.
The locality adjacent to this mosque is known as Kadam Mubarak, the late-Mughal Qadam Mubarak Mosque derives its name from a slab that bears an impression of the Prophet's foot (mubarak) on stone preserved in a room contiguous to the prayer chamber of the mosque. From an inscription it is known that Muhammad Yasin, a local military officer built this mosque in 1719 in the Rahmatganj area during the reign of Mughal emperor Muhammad Shah.