Browsing Category: "UNESCO World Heritage Sites"
.
On our second day in Agra we went to Fatehpur Sikri, we took a bus from the bus station. The trip took more than one hour, when we reach the city and got off the bus I immediately went to the comfort room one local guy speak to me in Hindi as I can't understand it I just went inside and I have heard my husband asking the guy if he thought I am Indian woman. I am mistaken again as Indian woman, when I went out my husband handed a calling card to me he says one guy gave it to him the owner of the small restaurant in the bus station, he is inviting us to try his restaurant but because we have to do sightseeing  he just gave a card for later.
We walked through the market and houses in order to be at the gate of  Fatehpur, one young student tag along with us even we told him we don't need a guide but he keep insisting and says he promised not to ask for money after the tour.
Fatehpur Sikri is built during the second half of the 16th century by the Emperor Akbar, Fatehpur Sikri (the City of Victory) was the capital of the Mughal Empire for only some 10 years. The complex of monuments and temples, all in a uniform architectural style, includes one of the largest mosques in India, the Jama Masjid. It was first named Sikrigarh and  was constructed by Sikriwal Rajput Rajas Last Emperor Maharana Sangram Singh beginning in 1500. At Seventh attack of Akbar Sikriwal Rajput left Palace after that Sikrigarh was named Fateh(victory)pur Sikri.There was a temple of Sikriwal Rajputs Kuldevi(Named Chamad Devi)In front of Lal Darwaja of Sikrigarh(at present Fatehpur Sikri).After victory on sikrigarh Akber served as the capital from 1571 to 1585 .He was named Salim to honour the saint and would later rule the empire as Emperor Jahangir. Here after the second birthday of Jahangir in 1571, Akbar then 28 years old, decided to shift his capital from Agra to the Sikri ridge, to honor Salim Chishti, and commenced the construction of a planned walled city which took the next fifteen years in planning and construction of a series royal palaces, harem, courts, a mosque, private quarters and other utility buildings. He named the city, Fatehabad, with Fateh, a word of Arabic origin in Persian, meaning "victory", it was later called Fatehpur Sikri. It is at Fatehpur Sikri that the legends of Akbar and his famed courtiers, the nine jewels or Navaratnas, were born . One of them, musician and singer Tansen is said to have performed on an island in the middle of the pool Anup Talao. – Wiki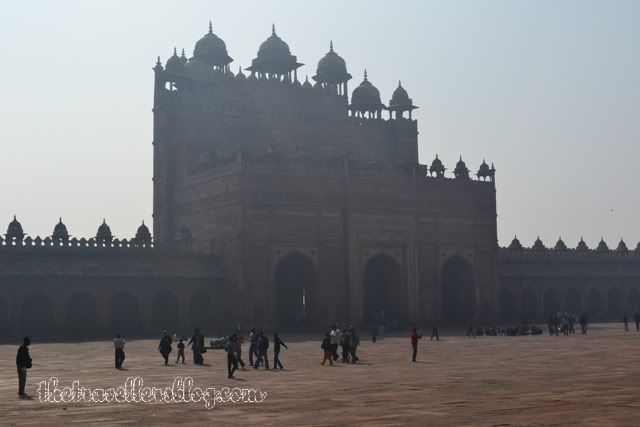 We just stayed  for few minutes at the garden where we can see the back view of Taj Mahal because we can't really see anything it is too foggy. We hop in the auto-rickshaw and  our driver remind us our deal which is to visit three shops, so we did visit one.
And after which we directly went to Taj Mahal at the entrance there's a lot of camel with their colorful bling-bling few locals asked us if we want to ride because they say it is going to be a long walk up to the main gate to Taj Mahal we decline their offer and we just walk.
It took us few minutes before we can see the ticketing office we are still far but there are some local guys who immediately approached us, we already know what they want so we kindly told them we don't need a guide, some guys insisted we should hired them because if we go with them we are not going to fall in line in the entrance but we just laugh with it.
I went to the ticket for foreigners but it seems the guy inside is kind of busy or he just didn't notice me because I always mistaken to be Indian woman so I asked my husband to buy for us, so he did. When we got our ticket we went to the main entrance and we both laugh because we did the right thing not believing the guys that there's a long line,  well there's a long line for locals but for foreigners there's none it is all empty. Getting inside is not that easy you have to passed security check, open your bags and body check.  I have a container of candy with me and I almost get a problem with it because eating inside is not allowed, few of my bubble gum end up in the garbage can though. The lady officer allowed me to bring the candies with me when I told her I need them because I have motion sickness which is true and I have  promised not to eat them.
Anyway at the main gate and I am very excited and ecstatic that I am going to finally see the magnificent Taj Mahal, I just read and see this architecture in my books at school. It is like dream come true feeling.,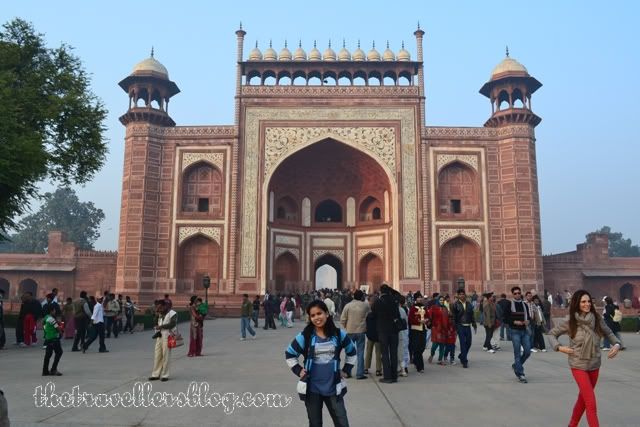 Anyway I don't know if it just me or I can really feel the excitement of everybody. Everybody is rushing to the main gate and have a glance of this humble architecture.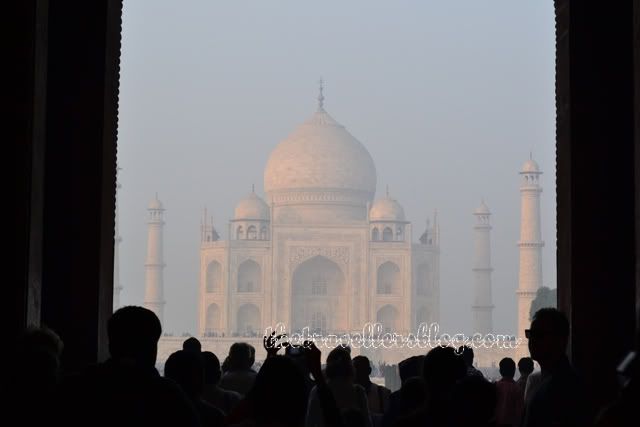 While waiting for the Hoho bus that will took us to Humayun's tomb I bought a bag of chips, it was sold for 15 R.s to me but when I saw the same chips in another street vendor I saw a written price in the card it is only for 8 R.s, oh well tourist price. I ate the chips while waiting for the bus, the people are keep looking on us as if it is there first time to see a foreigner.
When the bus arrived we hop  in and hop out in Humayun's Tomb, it is a complex set of buildings build  by the Mughal emperor's wife Haji Begum in 1562 AD.
Humayun's tomb is designed by Mirak Mirza Ghiyath, a Persian architect. It was the first garden-tomb on the Indian subcontinent and was declared as UNESCO World Heritage site in 1993. It is located in Nizamuddin East, Delhi, India, close to the Dina-panah citadel also known as Purana Qila, that Humayun founded in 1533.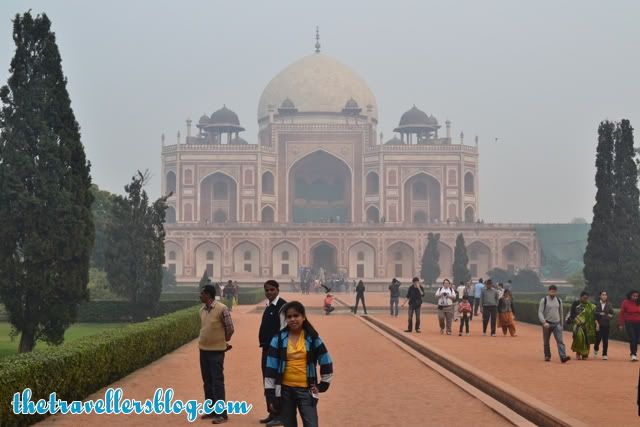 It was also the first structure to use red sandstone at such a scale. Besides the main tomb enclosure of Humayun, several smaller monuments dot the pathway leading up to it, from the main entrance in the West, including one that even pre-dates the main tomb itself, by twenty years; it is the tomb complex of Isa Khan Niyazi, an Afghan noble in Sher Shah Suri's court of the Suri dynasty, who fought against the Mughals, constructed in 1547 CE.
Since the the tomb was declared  a UNESCO World Heritage Site in 1993 it has undergone extensive restoration work until now.
After our meal I am waiting for a sorry from our guide but it seems he has no plan to do it, so we continue to do with the silent treatment. When we arrived in Erdene Zuu Monastery we just followed him silently,  he bought a  ticket and then we found out he also hired a guide for us inside the Monastery. Dunno if it is required or he just don't like going with us because he knows we are not in the good mood and we are not happy on what he did.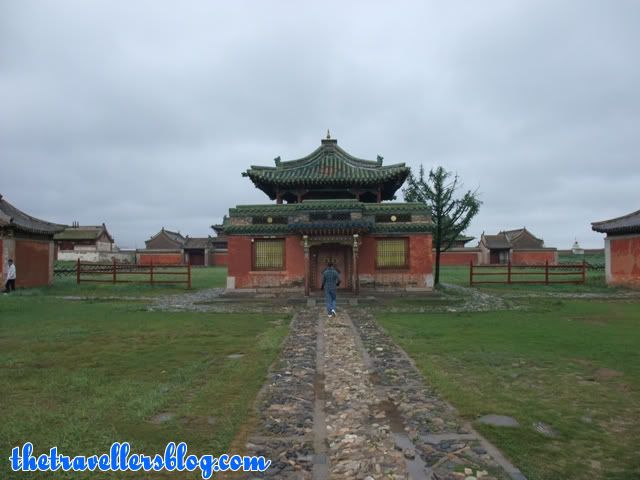 Our female guide take us to every temple and explain the importance of the painting, statue and etc., she speaks English fluently. While looking at her I remember my schoolmate she has  a resemblance to our guide.
Anyway as what I have read the Erdene Zuu Monastery is probably the most ancient surviving Buddhist monastery in Mongolia. It is in Övörkhangai Province, near the town of Kharkhorin and adjacent to the ancient city of Karakorum. It is part of the World Heritage Site entitled Orkhon Valley Cultural Landscape.
The Erdene Zuu monastery was built in 1585 by Abtai Sain Khan,upon the (second) introduction of Tibetan Buddhism into Mongolia. Stones from the ruins of Karakorum were used in construction.
It is surrounded by a wall featuring 100 stupas. The number 108, being a sacred number in Buddhism, and the number of beads in a Buddhist rosary, was probably envisioned, but never achieved. The monastery temples' wall were painted, and the Chinese-style roof was covered with green tiles. The monastery was damaged by warfare in the 1680s, but was rebuilt in the 18th century and by 1872 had a full 62 temples inside.