It is past lunch time but we are not done yet with our morning sight seeing, forget the achy feet because we took another long walk just to find the  The Fine Arts Zanabazar Museum,  we're the only visitor in the museum its kind of empty maybe because people are having their lunch.
This  2-storey building  Zanabazar fine arts museum is one of the first European buildings in Mongolia . It was originally built as a trade centre in 1905.
It has superb collection of paintings, carvings and sculptures including by the  revered sculptor and artist Zanabazar. It also contains other rare and sometimes old, religious exhibits such as scroll thangka (paintings) and Buddhist statues, representing the best display of its kind in Mongolia.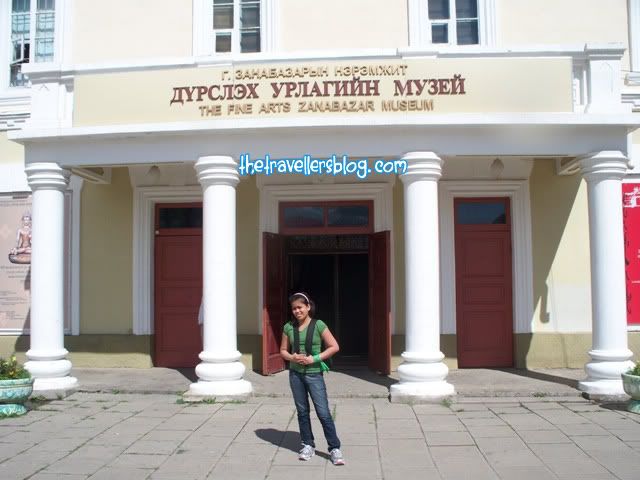 The second room contains some fine examples of the sculptor's work including five Dhyani, or Contemplation, Buddhas (cast in 1683) and Tara in her 21 manifestations.
Also worth checking out are the wonderful tsam masks (worn by monks during religious ceremonies) and the intricate paintings, One Day in Mongolia and the Airag Feast, by renowned artist B Sharav. These depict almost every aspect of nomadic life.